Fulfillment Methods
Ultra Commerce currently offers five fulfillment method types (Auto, Download, Email, Pickup and Shipping). By default, one Fulfillment Method per type is listed in the Fulfillment Method Listing, sharing the name of its method type.

To edit any Fulfillment Method's settings, select the

icon on the right hand side.
Note: for all fulfillment methods, the very first option is the Active toggle. Use this to determine whether the shipping method is globally available across your site.
---
Auto Fulfillment.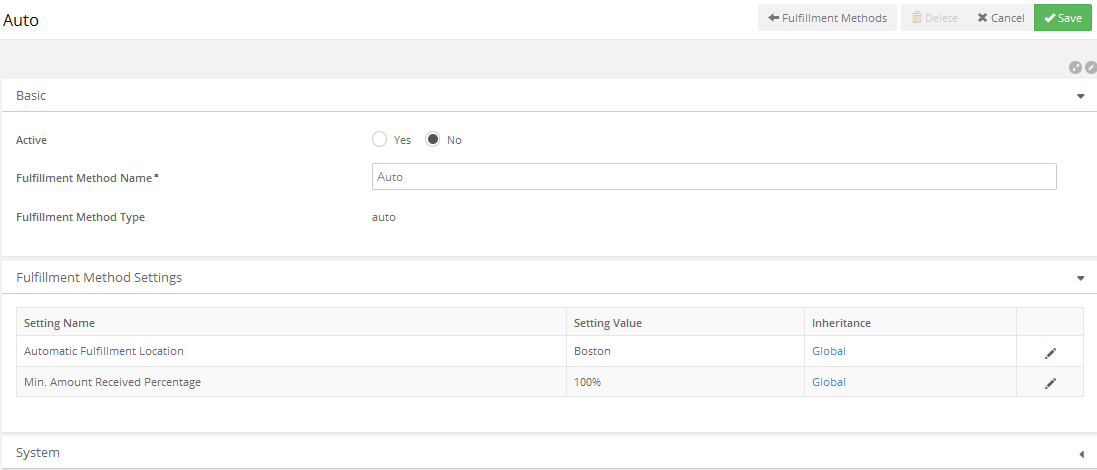 Automatic Fulfillment has very few customizable options and only one setting: Location, which can be toggled between however many stores/warehouses you have. By default, the location is inherited from the Automatic Fulfillment Location global fulfillment method setting in the Setting Listing portion of the Settings Manager.
---
Download Fulfillment.

There are no configurable options for the Download fulfillment.
---
Email Fulfillment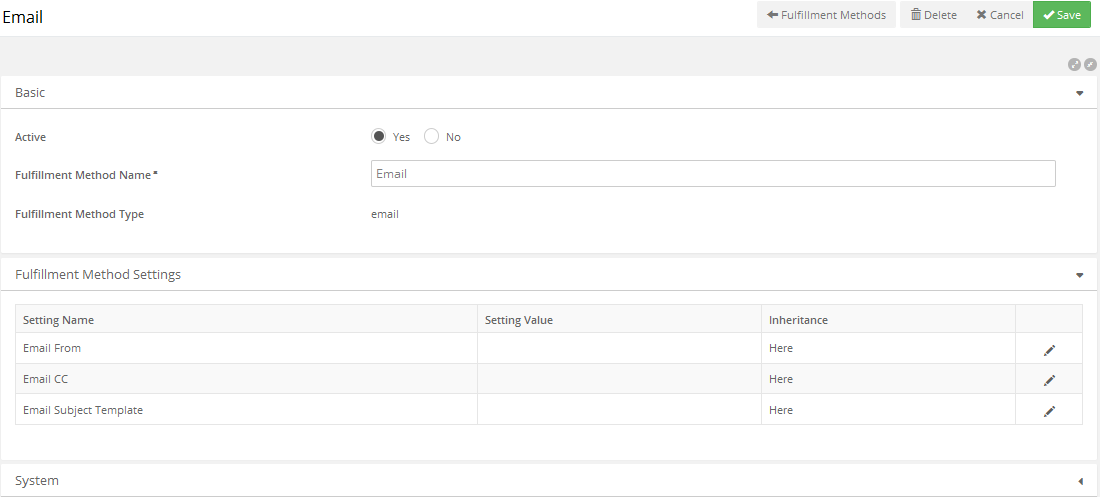 Enter the "From", "CC" and select an email template in this screen. Any Email fulfillments will be sent from this email address and contain a carbon copy email address, if entered.
---
Pickup Fulfillment.

There are no configurable options for the Pickup fulfillment.
---
Shipping Fulfillment.


The most common and complicated of fulfillment methods, the options available in creating new methods are dependent on which integrations you have set up in Ultra Commerce and which shipping providers you work with. To add a new method, click + Add Shipping Method. This will prompt you for a method name and whether the new method should begin as Active.
On the next page you will be informed: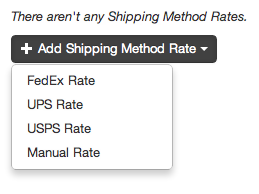 Also on this page are tabs for Shipping Method and Rate Settings, which can be used to override global settings if need be.
Clicking the + Add Shipping Method Rate button brings up an option list based on your integrations. Options vary greatly depending on the rates offered by different shipping services, but the basic format of an integration-based rate is Shipping Integration (say, FedEx or USPS), Service Provider Method (say, UPS Ground or USPS Flat-Rate Envelope), Address Zone, Min/Max Fulfillment Weight, and Min/Max Fulfillment Subtotal. You will also enter a Default Amount for the weight or subtotal range to which this rate will apply, which Ultra Commerce will use if for some reason it cannot acquire the precise rate from the shipping provider.
If you are entering a manual shipping rate rather than using a provider's rates, the format is the same as with an integration except there will be no integration name or service provider method, and the default amount will be the fixed amount charged for all orders within the ranges you've defined for weight and subtotal.
On the shipping method rate page that follows (also accessible by editing any pre-existing shipping method rates) you can adjust settings for Rate Adjustment Type & Rate and Min/Max Rate Amount, all of which are globally inherited by default.