Subscription Terms
There are two components to a subscription product: Term (how long the subscription lasts), and Benefits (what your subscription actually gets you). New subscription products are assigned both, so before creating a subscription product it's necessary to create at least one Term and one Benefits list.
Fortunately, both Terms and Benefits can be found in the Products drop-down menu.
Creating a New Subscription Term
Click Products on the Ultra Commerce toolbar.
Select Subscription Terms from the drop-down menu.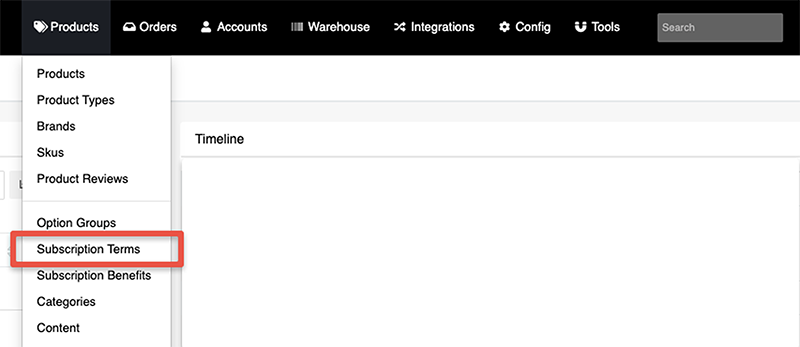 The Subscription Term Listing screen will display.

Click on the blue + Add Subscription Term button in the upper right-hand corner of the listing screen to bring up the Create Subscription Term screen.

After entering your subscription term name (typically, a length of time, such as "annual" or "6 months"), choose the appropriate terms from the drop-down menus and your choices for Auto Renew and Auto Pay and # Items to Delivery.
| | |
| --- | --- |
| Initial Term | This defines the duration of the first term for a given subscription. |
| Renewal Term | This defines the duration of all the subsequent auto-renew subscriptions after the initial term. |
| Grace Period Term | If an auto-renewed subscription is unpaid for some reason, then this grace period will provide the duration that someone can continue to use services until their account is suspended. |
| Auto Renew | This determines whether subscriptions are automatically renewed when they expire or subscribers have to manually opt-in to renewal. If this is set to 'Yes' then a renewal order will be automatically created at the end of the subscription term. |
| Auto Pay | This determines whether the subscriber is charged automatically upon renewal or whether they will pay later (usually via invoice). While Auto Renew may be active without Auto Pay, the reverse is never true. If this is set to 'Yes' then when a renewal order is created, it will automatically use the payment method on file to renew the order. |
| # of items to Delivery | Total number of items that will be delivered in a Subscription Term. |
Subscription Usage Settings
Once you have set these fields, click Save. There will now be an additional accordion called Subscription Usage Settings below the basic fields. These Settings can be set here at the Subscription Term level, or they can be inherited from the global Settings level.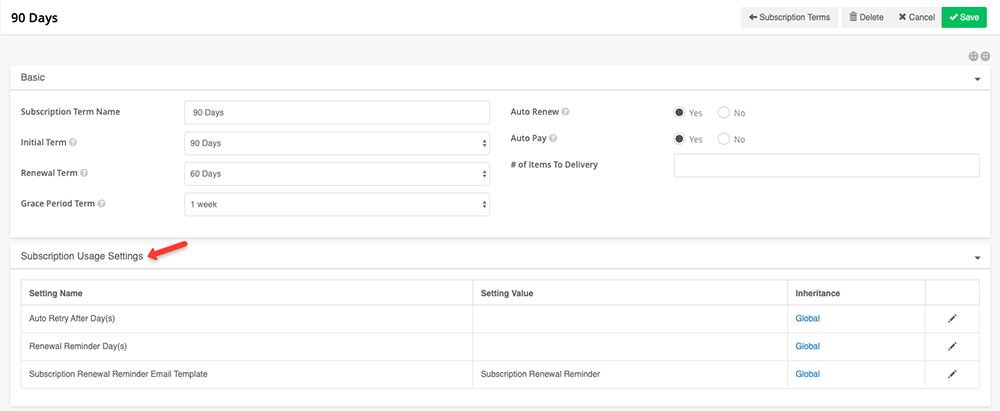 Subscription Usage Settings
| | |
| --- | --- |
| Auto Retry After Day(s) | If a renewal fails, this determines when auto renewal will be attempted again. |
| Renewal Reminder Day(s) | Number of days before renewal that an email is sent to remind user of subscription renewal. |
| Subscription Renewal Email Template | This determines the email template that will be used for the renewal reminder. |