Subscription Benefits
There are two components to a subscription product: Term (how long the subscription lasts), and Benefits (what your subscription actually gets you). New subscription products are assigned both, so before creating a subscription product it's necessary to create at least one Term and one Benefit.
Fortunately, both Terms and Benefits can be found in the Products drop-down menu.
Creating a New Subscription Benefit
Click Products on the Ultra Commerce toolbar.
Select Subscription Benefits from the drop-down.
The Subscription Benefits Listing screen will display.

Click the blue +Add Subscription Benefit button in the top right corner of the page and the Create Subscription Benefit modal appears.

| | |
| --- | --- |
| Subscription Benefit Name | This should describe the level of access or type of content to which subscribers will be given. |
| Access Codes | These can be generated in one of three ways: per account, per benefit, or per subscription. Select one of these from the Access Code Generation Type drop-down. |
| Maximum Use Per Access Code | This is the number of times a given access code can be used before it is no longer valid. |
Clicking Save brings you to the Subscription Benefit screen, where you will find expandable accordions for the Categories, Content, and Price Groups, associated with your benefit.

Categories and Content
Depending on your integration, Categories and Contents are both pulled from either Ultra Commerce or from your chosen content management system and added to the Categories and Contents tabs.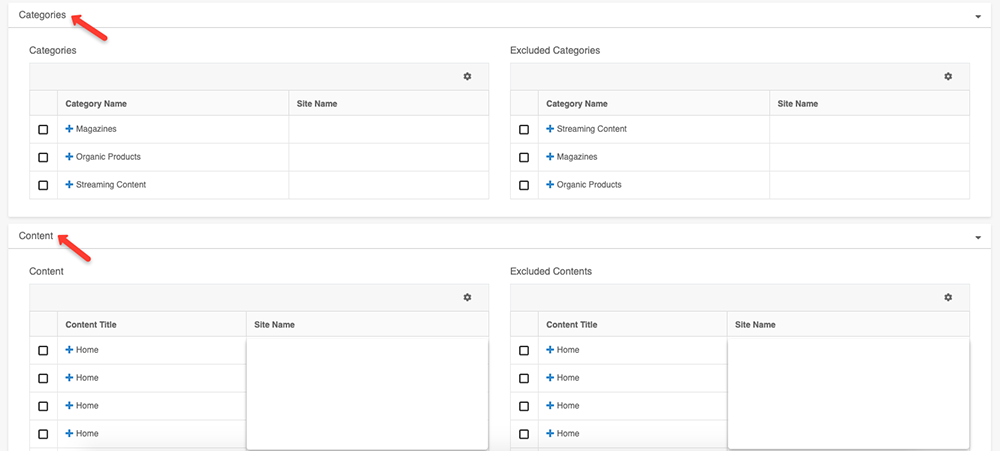 If a category or content page has been marked Yes for Restrict Access, you will have the option of including it in this subscription benefit. All categories and content pages can be manually excluded regardless of whether they are inherently restricted.
Price Groups
Price Groups (see the price group section of this user guide for more information) can be assigned if special subscription rates are associated with subscriptions with this benefit.