Container Presets
Container Presets is the area of the Ultra Commerce admin where custom preset container sizes are created and can be accessed from other areas of Ultra Commerce admin that use boxes such as Fulfillment Batches.
To access the Container Presets area:
Select Warehouse from the Ultra Commerce toolbar
Select Container Presets from the drop-down.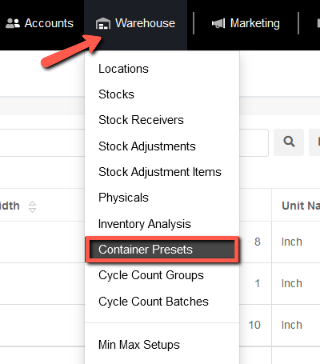 The Container Presets listing page will display.

To add a Container Preset:
Click the blue +Add Container Preset button.
The Create Container Preset form will display.

Fill in the Container Name and the dimensions
Click Save.