Payment Methods
The Payment Method Listing can be accessed by selecting "Payment Methods" from the Settings Manager. It displays all current payment methods, their method type, and whether they are actively available on the site.

Like shipping methods, the payment methods and options you have at your disposal greatly depend on what payment integrations you currently have active on your site. Clicking + Add Payment Method will bring you to the Create Payment Method screen, wherein you can choose whether the method is active, provide a payment method Name, choose a provider gateway from the available integrations, depending on your selected Payment Method Type (Cash, Check, Credit Card, External, Giftcard or Term Payment).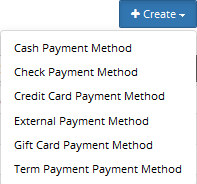 Note: once your payment method has been created, you cannot change its type.
If you have created a Credit Card payment method, you will be able to adjust the following options:
Store Credit Card Number with Order (Yes/No)
Store Credit Card Number with Account (Yes/No)
Checkout Transaction Type (None, Authorize, or Authorize And Charge)

Authorize or None are commonly used when the customer is not to be charged until the order has shipped. These orders will be charged (and, if needed, authorized) at the point of fulfillment rather than of purchase.
*Another thing to note is that there are settings at the Account level and at the Sku level that determine whether or not a specific payment method is available for use. The Settings section of the site is where they are set globally.
To make sure a payment method enabled:
Select Config from the Ultra Commerce navbar and choose Settings from the drop-down.
Expand the Account Settings tab.
Here you can enable Eligible Payment Methods, Eligible Payment Terms, Default Account Payment Term and Term Account Credit Limit (for use with Term Payment payment method). Make sure if you would like an account to have Term Payment that their credit limit is greater than 0, which is the default limit out of the box.
Below is a screenshot that shows these account settings. Note, these are global settings. They can be overridden at the individual Account level. (On the individual account detail screen expand the Account settings tab and then override the global setting.)

To set the eligible payment methods for Skus
Select Config from the Ultra Commerce navbar and choose Settings from the drop-down.
Expand the Sku Settings tab.
Here you can make sure that the Eligible Payment Methods setting is set to include all desired payment methods. The settings here are global. If you would like to restrict certain payment methods at the individual Product Type, Product or Sku level, you would override the Sku setting for Eligible Payment Methods on the Product type, product or sku's sku setting tab.