Order Origins
To access the Order Origin Listing, select "Order Origins" from the Settings Manager.

Ultra Commerce offers five Order Origin Types: Web, In Person, Phone, Mail-in, and External. By default, there are three Order Origins created: Web (type: web), Point of Sale (POS; type: in person), & Mail Order (type: phone), one of which (Web) is automatically active.
To create a new Order Origin, click the blue + Add Order Origin button. The Create Order Origin prompt that opens will ask you to add an order origin Name, determine whether the origin is actively available, and select the Type of origin this is.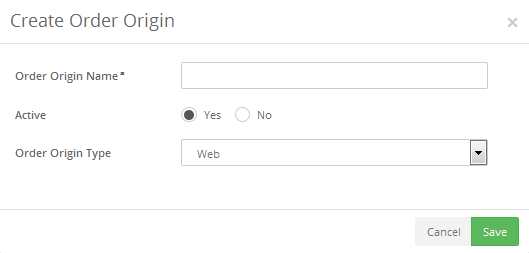 The function of Order Origins is merely for reporting purposes. The origin of an order in Ultra Commerce does not functionally affect how it is processed.