Products Overview
The Products manager section of the site is where you can add new, view, or edit existing merchandise, product bundles, subscription, event, content access, and gift card products.
This section of the user guide provides a basic overview of the product listing page.
Define properties related to products before Creating Products
Before you start creating your bundle product, content access product, event product, gift card product, merchandise product, subscription product, Miscellaneous fee product, it is helpful to have other product properties defined first such as product types sub-types you may want to have defined such as pants, shirts etc. and the brand for the products. Then there are other properties that can be defined that are unique to the different product types that can be set up in Ultra Commerce:
If you want to Create a Bundle Product: The products that you would like to include in the bundle.
If you want to Create a Content Access Product: The content you would like to link this product to (i.e. the content someone is purchasing access to).
If you want to Create an Event Product: The Locations and configurations defined for your event.
If you want to Create a Gift Card Product: The expiration terms defined in the Terms section of Ultra Commerce. (Laws vary depending on the location as to allowed expiration terms, so take care when putting an
If you want to Create a Merchandise Product: The option groups and options (size, color, etc.). expiration date on a gift card).
If you want to Create a Subscription Product: The subscription benefits (what you get from purchasing this subscription), subscription terms (how long the subscription lasts), and renewal subscription benefit (what someone gets when they re-subscribe) defined for your product.
If you want to Create a Miscellaneous Fee Product: This is a fee product that does not recur and is without any shipping requirements, so there is nothing to be defined before creating a miscellaneous fee product.
Navigate to the Product Listing Page

To navigate to the Product listing page:
Click on Products from the Ultra Commerce navigation toolbar
Select Products.
The Product listing page displays all products that have been created.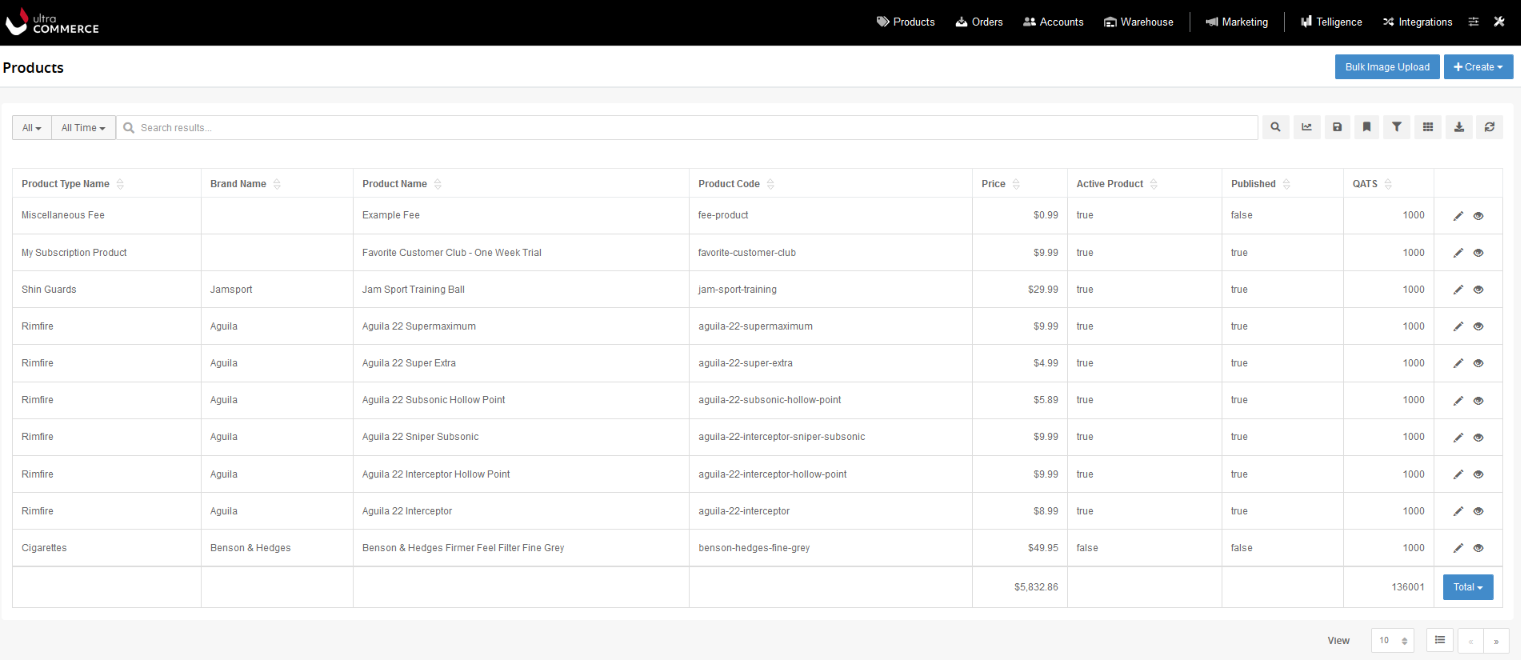 You have the ability to sort the products by clicking the ascending/descending arrows for Product Type Name, Brand, Product Name, Product Code, Price columns and determine at a glance whether the product is Active and Published and see the QATS.Products can be searched, reports created, filters added through the personal collections bar at the top of the listing. Visit the Collections section of the user guide for an overview of how to create personal collection reports