Order Deliveries
The Order Deliveries section of Ultra Commerce lists all order deliveries and includes the order number, the order placed date, the date delivered, the warehouse, the type of fulfillment, the shipping method (if any) and the tracking number (if any).
Navigate to the Order Deliveries listing page by: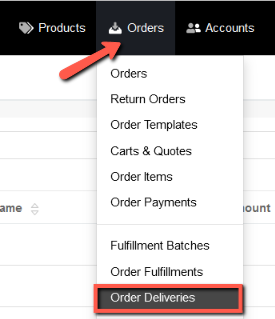 Clicking on Orders on the Ultra Commerce toolbar
Selecting Order Deliveries from the drop-down.
The Order Deliveries listing page will appear and from here you can view an existing order delivery detail page by clicking the pencil or eye icon.

If you click on the pencil or view icon, you will be able to view the Order Deliveries detail page. There are tabs for the Order Delivery Items as well as a tab for the Containers.