Skus
The Sku listing page lists all the skus that exist for all products in one place. From here, you may view or edit an individual sku.
Skus are created at the product level, so, clicking blue +Create button will lead to the Product Create screen where you can create a new product and automatically generate sku(s).
If you want add a sku to an existing product, navigate to the Product listing page (select products from Ultra Commerce toolbar and then Products from the drop-down) and then open the desired product. Refer to the Products section of the user guide for more information.
To access the Sku listing page:
Click Products from the Ultra Commerce toolbar.
Select Skus from the drop-down.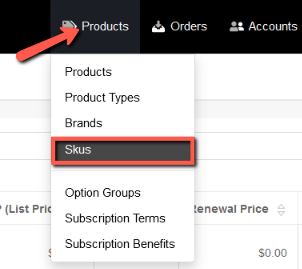 The Sku listing page will appear.

You can sort by Sku Code, Product Name, Product Code, Product Type Name, Brand Name, MSRP List Price, Price, Renewal Price, Sku Definition, Active, Published, and QATS as well as perform a Search at the Sku level.