Product Types
Product Types is a useful way to classify products that are created and then sold so that they aren't lumped into one single product type. Ultra Commerce already has six different product types, but you can further divide products below these six product types.
Let's say you are a sporting goods retailer. Rather than creating your clothing and your camping gear products with the same Merchandise product type, you can create Merchandise product sub-types. So, you could create a Merchandise - Clothing product type and a Merchandise - Camping Gear product type that would appear in the Product Type drop-down when creating a new Merchandise product.
Navigate to the Product Type listing
To see a listing of all current Product Types, and create a new sub-type:
Click Products on the Ultra Commerce toolbar.
Select Product Type in the drop-down.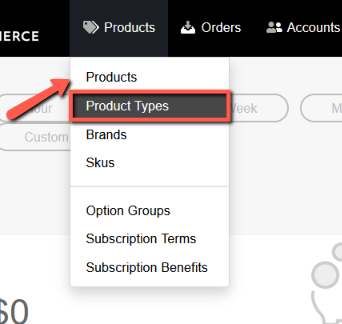 The Product Type Listing page will open.

Create a Product Type
To create a new Product Type,
Click the blue +Create button
Choose from the choices on the drop-down:

Content Access Product Type
Event Product Type
Gift Card Product Type
Merchandise Product Type
Product Bundle Product Type
Subscription Product Type
Depending on which option is chosen, the new Product Type will be given the same attributes as the selected parent product type.
The Create Product Type screen will appear. In the screenshot below, Merchandise Product Type has been selected.
Parent Product Type - This will be Merchandise by default since Merchandise was chosen from the Create drop-down. However, you can select another previously created merchandise sub-type as the parent product type from the drop-down if you want to further break down your merchandise sub-types.
Product Type Name: Create a distinct product type name. So, in the case of a sporting goods retailer, a product type name might be Women's Active Wear.
When you are finished, click Save.
The new product type will be added to Product Type Listing page, where it can be accessed for future editing. And the new product type will also appear in the product type drop-downs of the product Create screens.